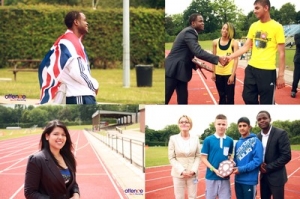 For the past couple of weeks, we have been working on a project for "Beyond 400 LTD", a corporate venture by Daniel Caines – former 400m World and European Champion and Great Britain olympian.
We recently had a photoshoot for the project at Tudor Grange Athletics Track in Solihull (West Midlands). Prior to the shoot was a sports event for a local school in Solihull, for which Daniel Caines presented the awards to the winning teams. We were assisted by a volunteer, Karen Nizzer, recent LLB Graduate from the University of Birmingham.
"Karen was a trooper today. Very willing to help in every way and definitely contributed in making the day a success"
The crucial phases of the Beyond400 project are due to be completed by mid August. To be informed of the launch of the website and further info, visit http://www.beyond400.co.uk and leave your email address in the box.
Visit our facebook page for more pictures, news and interaction.