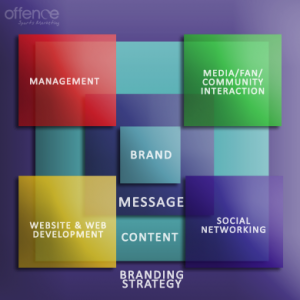 As an athlete or sporting organisation, positive perception can earn you millions, whilst negative perception can costyou everything. Our marketing and branding strategies are designed with this in mind. We aim to create a unique and exceptional image for each of our clients.
Understanding that 'one size fits no-one,' we'll take the time to get to know your brand properly, and identify what it means to your customers, fans, sponsors and community. We'll listen to your short-term and long-term goals, or work with you to set some if necessary. All this is vital as it helps us to create a truly bespoke marketing strategy built for you, rather than just a generic formula with one or two tweaks.
We are an integrated agency and this means we not only offer consultancy services; we also implement strategy and solutions, thanks to the range of marketing and creative capabilities at our disposal.